It is estimated that by 2030 the Canadian population will include three million Muslims from all over the world. Are you ready to receive these people as colleagues, neighbours and friends?
We encourage you, and your church, to do all you can to prepare to welcome newcomers to Canada. The following books will give you insight into understanding Muslims and Islam.
The Messenger, The Message and The Community by Roland Muller
Jesus Asked by Conrad Gempf

Two Prayers for Today by Chawkat Moucarry

The Four Gospels (In order to become an "expert" on what Jesus said and did.)

Wind in the House of Islam by David Garrison

Waging Peace Against Islam by Christine Mallouhi

Woman to Woman by Joy Loewen

Muslims, Christians and Jesus by Carl Medearis

All the Prophets Have Spoken by Yehia Sa'a

A Line in the Sand by James Barr



We also recommend the following teaching videos

The Friendship First Course is an interactive, non-specialist course in six-sessions. It enables Christians to approach their Muslim friends with confidence by equipping them with the skill and resources needed to be an effective witness to Jesus Christ
www.friendshipfirst.org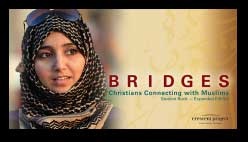 Take the Bridges DVD Study with a small group of friends.
Build knowledge and put insight into practice with hands-on exercises
www.crescentproject.org
PRESS RELEASE
November, 2017
National study raises concern about definition of mission among Evangelicals
Study and Reports now available online
TORONTO, ON - A national study commissioned by The Evangelical Fellowship of Canada (EFC) and the Canadian Missions Research Forum (CMRF), has found that there isn't a well-defined evangelical consensus about the definition of mission.
The lack of clarity raises concern not only about how people become involved in mission but about the nature and purpose of the Church.
The study's initial findings were presented to denominational and mission leaders during the EFC's annual Presidents Day held in November 2016. In February 2017, the first in a series of reports based on the study's findings was released. The report, Canadian Evangelicals and Short-Term Missions, looks at who goes on short-term mission trips, where they go, what they do and what motivates them to go on these trips. The report will help churches and mission agencies refine their short-term mission programs and goals.
A second report looks at people's understanding of mission calling, sending and training. A third report looks at church mission budgets and a forth report focuses on churches' communication about missions. The final report in the series was released in October and looks at mission definitions.
All of the reports, as well as the Study are posted at:
https://www.evangelicalfellowship.ca/cmrf The website also lists all the Canadian Missions Research Forum partners.
PRESS RELEASE
March 18, 2016
MECO Canada not affected by recent decision
A recent announcement of a merger/partnership between SIM International and MECO International, applies only to MECO UK and its affiliate in South Africa.
MECO Canada is not affected by this decision. MECO Canada was incorporated as a Canadian charity in 1978 and maintains its autonomy. Its personnel continue to serve churches and ministries in the Middle East.
The Board of Directors of MECO Canada recently expanded the mission's mandate to include serving churches and ministries in Canada as they reach out to people from the Middle East. Since January 2016, MECO Canada has been a key catalyst for helping English and Arabic congregations in the Greater Toronto Area work together to assist Syrian refugees; people sponsored by the Canadian Government and living in hotels until permanent housing can be found for them.
MECO Canada is committed to collaborating with local congregations, mission agencies and ministry organizations to see the Gospel advance among people in the Middle East and Canada.
For more information about MECO Canada contact:
Linda Haist
President
(905) 335-7329
mecan@on.aibn.com